Below you may find answers to all your questions regarding Walmart gift cards. quoted from help.walmart.com.
Activate, Check Balance and Find the PIN
Activating Gift Cards:
No activation is required for gift cards less than $250, eGift Cards or those that were part of a bulk purchase totaling less than 25 cards
For your security, we will require you to activate any Walmart plastic Gift Cards purchased in an order of 25 cards and/or an order of $250 or more. An email with activation instructions is sent to the email address listed on the account at the time the order is placed. You will receive an email with a password to activate your Gift Card. If you cannot find this email, or did not receive one, please contact Walmart.com Customer Care.

Checking the Balance
With your 16-digit card number and PIN, you can check the balance of a Walmart Gift Card either online here, in a Walmart store or by calling 1-888-537-5503. Finding PIN on a Plastic Gift Card
A PIN is a Personal Identification Number that is unique to your Walmart Gift Card. It is located on the back of your gift card in the bottom right corner under the silver scratch-off area. If You Don't Have a PIN
If you have a plastic gift card that doesn't have a PIN, you can use it at a store but you cannot use it online at Walmart.com. For your security, Walmart.com can only accept cards with a PIN. Without a pin you cannot check the balance of a Walmart Gift Card, but you can trade it in for a new card with a PIN at any local Walmart store or Sam's Club in the United States.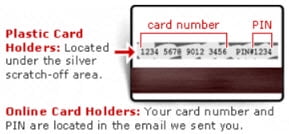 ---
Use or Store Gift Cards/eGift Cards

Walmart gift cards can be redeemed at:
Walmart.com
Samsclub.com (if you are not a Sam's Club member, you may shop at a Sam's Club store, but a 10% service fee will apply)
Walmart Stores and Neighborhood Markets (use plastic card, if egift card print out/show email on your mobile device to the cashier)
Walmart Gas Stations (bring plastic card gift card or if an egift card print out/show email on your mobile device to the cashier at Walmart Store to trade it in for a plastic gift card)
Sam's Club stores (bring plastic card, or print out/show egift card email on your mobile device to the cashier. If you are not a Sam's Club member, you may shop at a Sam's Club store, but a 10% service fee will apply)
Vudu.com (streaming movies and TV)

How to use your gift card to make online purchases:
At checkout, you can use up to five gift cards at one time or a combination of a gift card and other payment method such as credit/debit card or Pay with Cash. To use your gift cards online:
During checkout you will reach the Payment Method screen
Select Gift Card
Add a new Gift Card or apply those already saved
As cards are added, you will see them appear in your Purchase Summary
If your order total is less than the amount on your Walmart Gift Card, the remaining amount will be available on your card for future purchases. If your order total is more than the amount on your Walmart Gift Card, you will need to pay for the balance with additional gift cards or a credit/debt card

Store Gift Card in Your Account:
Up to five Walmart Gift Cards and/or eGift Cards can be stored in your account at one time
To save Gift Cards/eGift cards:
Sign in to Your Account
Select Account
Under Manage Account, select Gift Cards
Select Add a New Gift Card
Enter the gift card number, PIN and a gift card nickname
Select Save
The information is now securely saved in your account. You don't have to re-enter the PIN when redeeming the card.
---
Missing eGift Card email, Lost or Stolen

Missing eGift Card email:
Check your spam folders
Is the email address correct – egift cards will be delivered to the email address on your Walmart.com account
Less than 48 hours since your purchase – please allow 48 hours after your purchase for the email delivery of any electronic gift cards (eGift Cards)
If the email is not in spam, the email address is correct and it has been more than 48 hours:
Walmart.com eGift Cards

Resend the eGift Card from your account

Sign into your account
Select Account
From Purchase History, select See Details on the order to see the Resend option


Specialty eGift Cards – includes iTunes, Hulu Plus, and Chili's as well as other entertainment and dining options:

Go to the Walmart Digital Delivery Center
Enter the email address of the Walmart account used to purchase the card
Enter the billing Zip Code associated with the payment method used
Enter your 13-digit Walmart.com Order Number (starting with 2677)
An email will be sent to the email address associated with the order on the account
Lost or Stolen
Lost or stolen cards will not be replaced. Neither Wal-Mart.com USA, LLC nor Wal-Mart Stores Arkansas, LLC shall have liability to you for lost or stolen Walmart Gift Cards or use of any Walmart Gift Cards by third parties through your Walmart.com account.Protect your password – you are responsible for keeping the password for your Walmart.com account safe and for any activity conducted under your account.
---
Order in Large Quantities
If you are ordering more than 750 Gift Cards or are interested in using the cards for any promotional purpose, contact gift card support at giftcards@walmart.com or 1-800-411-7942, Monday-Friday, 7:30am-5:00pm Central. *This telephone number is for gift card customer support only.
---
Click below to Redeem you Walmart Gift Card